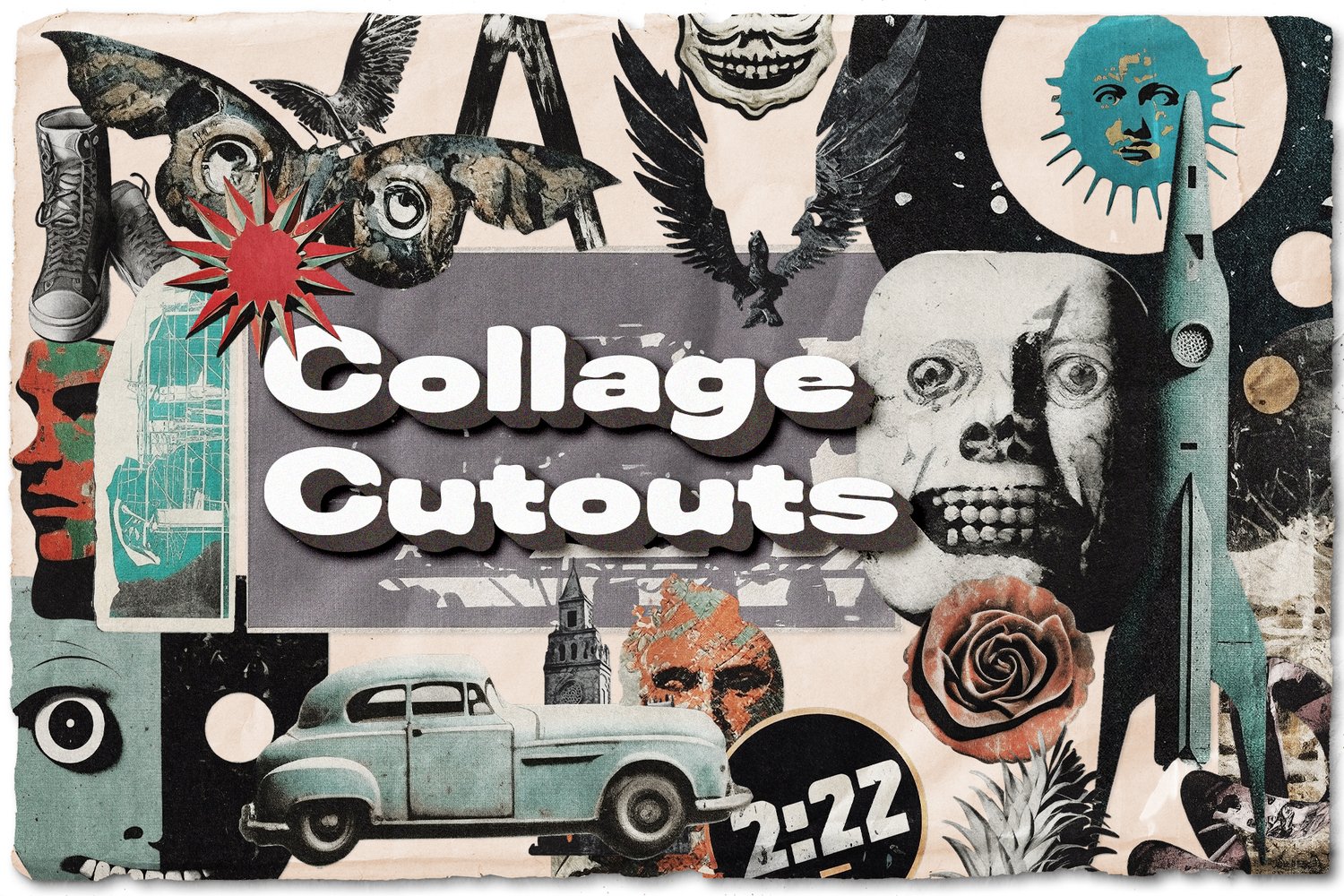 Collage Cutouts Vol. 2, a unique and groundbreaking digital asset collection, represents a celebration of the avant-garde, the unconventional, and the nonconformist. Offering a diverse range of shapes, themes, and styles, this collection empowers artists and designers to create stunning mixed media compositions that challenge the traditional norms of design. In this article, we delve into the philosophy behind Collage Cutouts Vol. 2, explore the art of collage making, and share tips, tricks, and complementary products that can help you achieve the best results in your creative projects.
---
Philosophy Behind Collage Cutouts Vol. 2
The philosophy of Collage Cutouts Vol. 2 is rooted in the spirit of creative rebellion, defying traditional design constraints and embracing the chaos of artistic exploration. Inspired by the street avant-garde movement of the late 20th and early 21st centuries, this collection redefines the creative landscape by incorporating non-conventional, distressed, and grunge designs. The ultimate goal is to empower designers and artists to push their creativity to new heights by exploring the boundaries of mixed media art and creating captivating designs that defy traditional norms.
What is Collage Making?
Collage making is a unique art form that involves combining different materials, textures, and images to create a new and distinctive piece of art. Tracing its roots back to ancient civilizations, collage has evolved into a popular medium for artists and designers, allowing them to express themselves in a personal and meaningful way. In the digital age, collage making has taken on new dimensions, with an abundance of images and advanced tools that offer endless possibilities for creativity and expression.
Tips and Tricks to Create Stunning Digital Collages that Look Exactly Like Physical
Plan Your Composition: Before starting, consider the elements you want to include, the colors you want to use, and the overall mood you want to convey. This will help you create a cohesive and visually pleasing design.
Choose Your Images Carefully: Select high-quality images that are well-lit and in focus. Consider using vintage or distressed images for a unique touch.
Experiment with Layers and Opacity: Use layers and opacity adjustments to create depth and texture in your collage.
Add Textures and Patterns: Incorporate paper textures, fabric patterns, or other textures that complement your design.
Don't Be Afraid to Get Messy: Embrace the unpredictable nature of collage making and experiment with different techniques.
What Products to Also Use to Get the Best Results
To elevate your digital collages, consider using complementary resources alongside Collage Cutouts Vol. 2.
Some noteworthy options include:
Anti Font 1, 2, 4, and 7: Revolutionize your typography with these unconventional and daring fonts that defy traditional design expectations.
https://bbymedia.store/b/anti-design-font-1
https://bbymedia.store/b/anti-design-font-2
https://bbymedia.store/b/anti-design-font-4
https://bbymedia.store/b/anti-design-series-anti-font-7-spiky-chaotic-messy-horror-themed-punk
Anti Gradients: Introduce a captivating array of unconventional gradients that challenge the norms and bring an edge to your designs.
https://bbymedia.store/b/anti-gradients
Paper Scraps Vol 1: Enhance your compositions with this exquisite collection of vintage and distressed paper elements, perfect for adding depth and texture to your projects.
https://bbymedia.store/b/paper-archive-5-paper-scraps
Broken Printer 1, 2, 3: Embrace the beauty of imperfection with these print-inspired assets that capture the essence of distressed and grunge aesthetics.
https://bbymedia.store/b/broken-printer-psd-template
https://bbymedia.store/b/broken-printer-2-psd-template
https://bbymedia.store/b/broken-printer-3-psd-template
Heretics Printer: Discover the power of this rebellious print-inspired product, designed for creatives who dare to challenge the status quo.
https://bbymedia.store/b/heretics-printer-print-machine-1
Burnt Paper Collection: Infuse your designs with the atmospheric and moody ambiance of these high-quality burnt paper textures, perfect for crafting dark and dramatic compositions.
https://bbymedia.store/b/burnt-paper-paper-archive-6
Anti Backgrounds (all volumes): Transform your projects with these unconventional backgrounds that defy design norms, providing you with an extensive array of options to create truly unique and captivating creations.
https://bbymedia.store/b/anti-backgrounds-vol-1
https://bbymedia.store/b/anti-backgrounds-vol-2
https://bbymedia.store/b/anti-backgrounds-vol-3
https://bbymedia.store/b/anti-backgrounds-vol-4
Anti Drawings (all volumes): Incorporate the spirit of grunge and eccentricity with these hand-drawn elements, inspired by the street avant-garde of the 1960s-1990s, and bring an authentic touch to your designs.
https://bbymedia.store/b/anti-drawings
https://bbymedia.store/b/anti-drawings-volume-2
https://bbymedia.store/b/anti-drawings-vol-3-vector
---