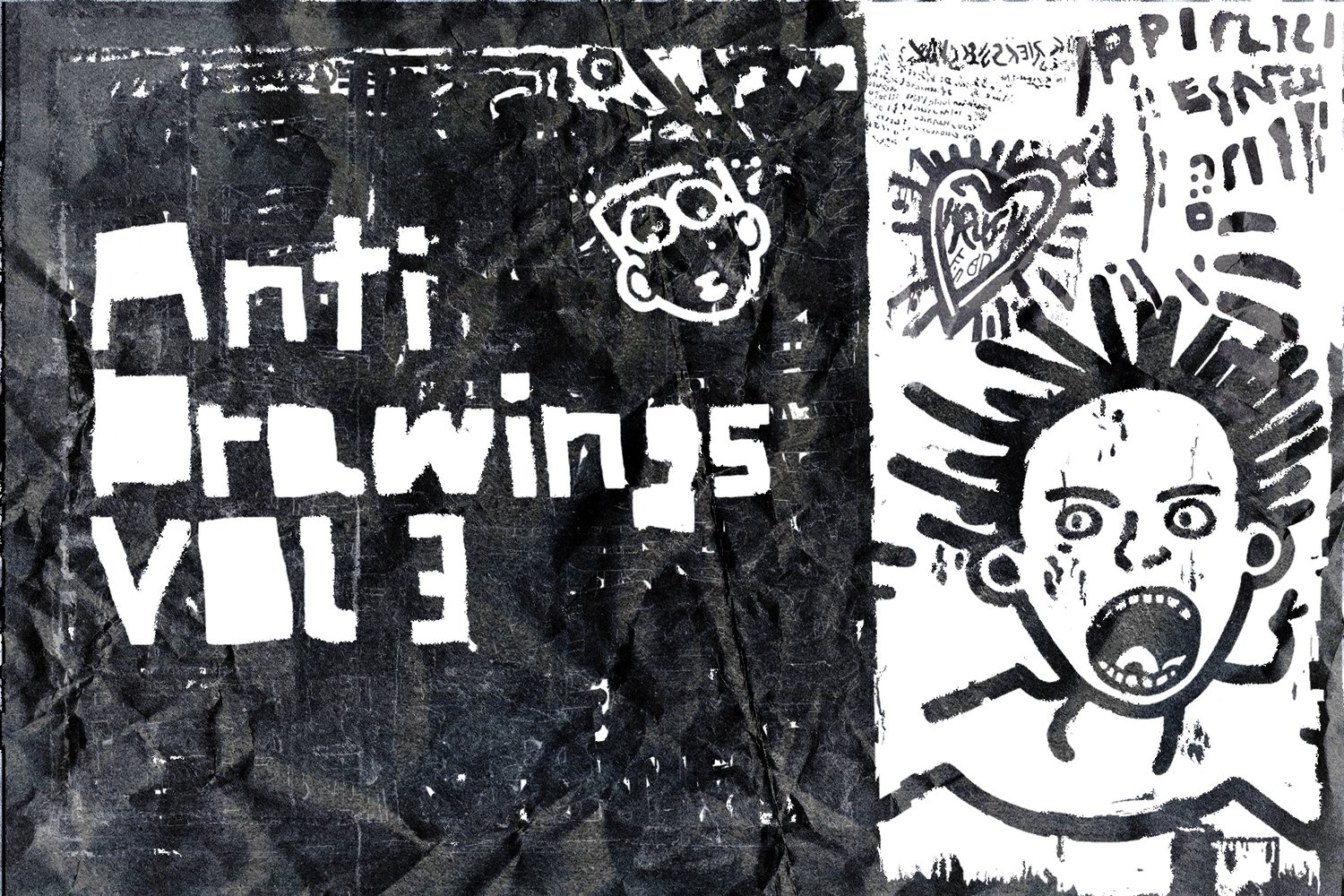 Introducing Anti-Drawings Vol 3, the rebellious collection of high-resolution JPG and EPS images paying homage to the raw energy of the '90s and 2000s subcultures. Inspired by the iconic art styles of Keith Haring and Jean-Michel Basquiat, these designs embrace the chaos and disrupt the mainstream with their gritty, street art-infused aesthetic that defies convention.
This collection of black-and-white artwork features bold, painted black lines and frenzied pen scribbles, combined with collage art reminiscent of the Y2K urban scene. The distressed paper textures give these creations a vintage, retro vibe, capturing the essence of hip hop, graffiti, pop, and contemporary art cultures. The mixed media fusion of cultural icons and biting social commentary showcases an expressive, avant-garde aesthetic that defines Anti-Drawings Vol 3.
Unleash your inner rebel with these audacious, streetwear-inspired designs that serve as the ultimate antidote to conformity. The artworks are perfect for crafting striking posters that demand attention, designing t-shirts that stand out from the crowd, and building websites that break the mold. With Anti-Drawings Vol 3, you can add a touch of grit and urban attitude to any project.
Dive into a world where art and anarchy collide, and make a statement with Anti-Drawings Vol 3 - the embodiment of a cultural revolution and postmodern art that transcends time, pushing the limits of creative expression. Immerse yourself in this daring collection and leave an indelible mark on the world of design.
Using Anti-Drawings Vol 3 is easy and intuitive. Designers can open the JPG and EPS images in their preferred design software and start creating immediately. The high-resolution images ensure that the designs are crisp and clear, even when enlarged. Designers can experiment with combining different elements to create a dynamic and layered design that captures the essence of street art and subculture.
Anti-Drawings Vol 3 offers a new approach to design that encourages designers to embrace the unconventional and push the boundaries of design. With its street art-infused aesthetic and gritty, rebellious attitude, it's time to unleash your inner rebel and make a statement with Anti-Drawings Vol 3.